Spring/Summer Hours: Mon-Sat 7:30 AM - 8:00 PM, Sunday 8:00 AM - 7:00 PM
Committed to Protecting the Environment
We're Hiring!
Do you want to join a great team of quality, dedicated individuals?
Click below can complete our online job application.
Conserving Water
Our state-of-the-art recycling system ensures we only use about 3 gallons of fresh water per car.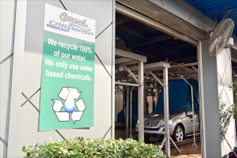 Biodegradable Chemicals
We use biodegradable, water-based chemicals. Our filtration system catches all harmful contaminants.